Garage Door Opener Replacement Service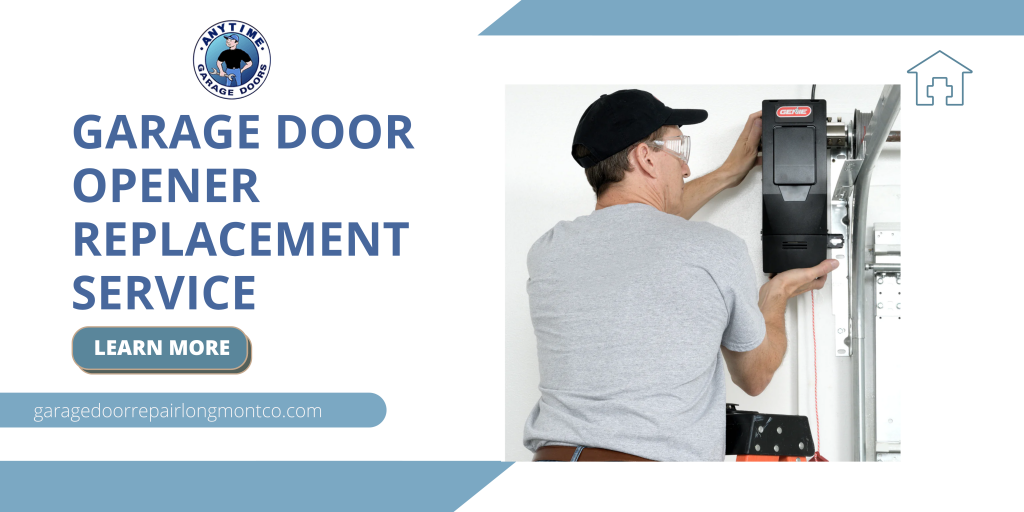 Does your garage door opener stop working or experience technical faults? No worries, Garage Door Repair Longmont is here to help you with the most satisfactory Garage door opener replacement services. We have been in the market for a long time, serving the Longmont community with our proven garage door repair services. Our unmatched service and excellent customer satisfaction made us the #1 choice for our trustworthy customers.
We provided all garage door opener repair services to ensure better customer safety. Once you avail of our services, we assure you will always be satisfied with our scalable services. 
Major Parts of a Garage Door Opener System
A garage door opener system consists of the following components:
Torsion or extension spring systems are used in the majority of garage doors. Torsion springs, on the other hand, are popular due to their better quality and long-term performance. Torsion springs are big springs installed at the top of the garage door and allow the door to open and close in a controlled manner. On the other hand, extension springs can be found on either side of a garage door.
The motor unit is one of the least sophisticated components of the garage door system, and it does a significant amount of heavy lifting during operation. The motor unit receives the signal to open or close the garage door, rises or lowers the door, and interfaces with the sensors to ensure the operation is safe. The motor has settings that allow you to adjust the force and distance your garage door opens.
The safety sensors guarantee that nobody prevents your garage door from shutting, which is vital to preventing anything from getting stuck beneath the door. The sensors, composed of two components, are positioned on either side of the garage door, slightly above ground level. The first transmits a signal, and the second receives it.
Warning Flags That Your Garage Door Opener Replacement Services
When your garage door opener is not working properly, it means your garage door opener has some warning flags:
Your motor is old
Opening and reversing
Horrible sounds and vibrations
Why Choose Garage Door Repair Longmont?
When you enter our corporate office, we at Garage Door Repair Longmont always aim to provide the best door opener replacement services.
Our team of professional experts makes your garage door opener truly functional as we have expertise in garage door opener repair, replacement, installation, and more. We are also well-versed in dealing with numerous brands and models, ensuring a seamless repair and replacement process.
We equip the best-quality replacement parts and openers to guarantee long-lasting performance. Whether you prefer an old-school chain drive or a modern smart opener, we have all the necessary solutions.
We realize the inconvenience and security dangers of a broken garage door opener. That is why we value prompt and dependable service, frequently providing same-day replacements for your convenience.
We believe that Garage door opener repair & replacement should be accessible to everyone. That's why we offer competitive pricing without compromising on the quality of our service. Please request a free quote to see our affordability for yourself.
Our major goal is your satisfaction. We stand behind our work with guarantees on our labor and replacement parts, giving you peace of mind and trust in our services.
Frequently Asked Questions (FAQ)
Q1. How do I know if my garage door opener needs replacement?
Multiple reasons indicate your garage door opener replacement services, including strange noises, erratic door movements, and frequent breakdowns. 
Q2. Is garage door opener replacement expensive?
The replacement cost can vary depending on factors such as the type of opener you select, the installation difficulty, and any extra amenities. However, we provide low prices to make it affordable to many homeowners.
Q3. Do you offer garage door opener options?
Yes, we provide a range of smart garage door openers that enable you to control your garage door from your smartphone or via WIFI networked devices. As a result, this adds an extra layer of convenience and security to your residential and commercial properties.
Q4. Do you offer garage door panel replacement services?
Yes, we offer garage door panel replacement services. Garage doors are made of 4-5 single panels so that we can replace the damaged section with the exact door model. As long as your garage door is in stock, we can perform a superior garage door panel replacement process.
Q5. What's included in a garage door maintenance process?
All overhead door hardware will be cleaned properly, tightened, and oiled during a garage door tune-up. To ensure the door's balance, a test will be carried out. You can help avoid unnecessary garage door repairs with the whole system.