Garage Door Opener Repair Longmont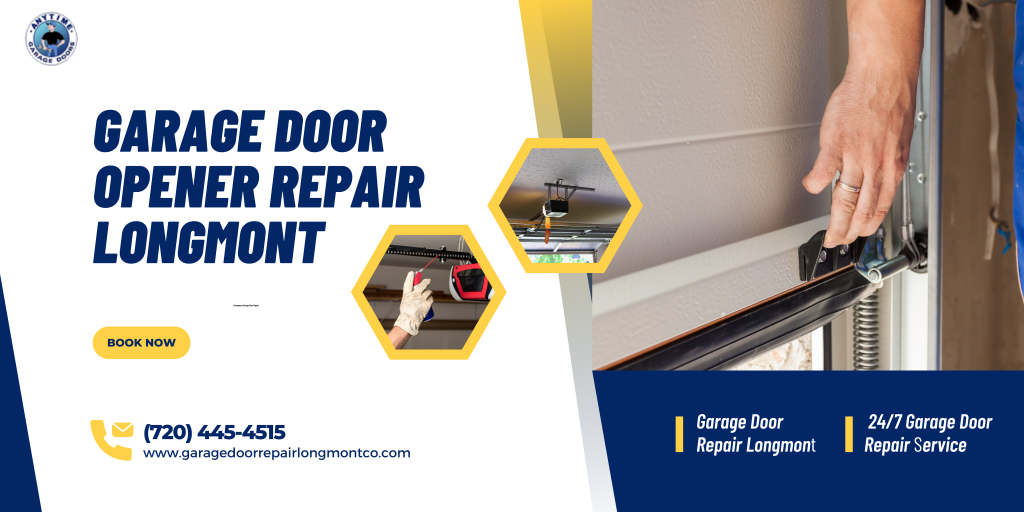 We serve the entire Longmont area, installing and repairing most garage door opener makes and models. Our professionally trained technicians will help you choose the perfect model for your needs and budget. Today garage door openers offer a diverse array of styles and convenient functionalities. Whether your preference leans towards smart capabilities, energy-efficient choices, or the security of battery backup, Garage Door Opener Repair Longmont provides an opener perfectly tailored to meet your requirements. With smart features, you can control your garage door opener with your smartphone or voice assistant. This means you can open and close your garage door from anywhere, even when you're not home.
Choosing the Ideal Garage Door Opener
There are three primary categories of garage door openers: chain drive, belt drive, and jackshaft. Every type possesses its distinct set of benefits and drawbacks. So it is important to choose the most suitable one in alignment with your specific requirements.
Chain Drive Openers
Chain drive openers are the most commonly utilized type of garage door opener. They are relatively inexpensive and can handle heavy doors. However, it's worth noting that they can generate noise during operation, and the chain itself may undergo wear and tear.
Belt Drive Openers
For those who value a quieter operation, belt drive openers present an excellent choice. Using a rubber belt, these openers ensure minimal noise during door operation. Perfect for homes with bedrooms or living spaces adjacent to the garage, they offer smooth and silent performance.
Jackshaft Openers
Jackshaft openers are the least common type of garage door opener. They are mounted on the side of the garage door rather than on the ceiling. This frees up ceiling space and can be helpful if you have a low ceiling. However, jackshaft openers are more expensive than chain drive or belt drive openers.
The best type of garage door opener for you will depend on your budget, your needs, and your preferences. If you are looking for an inexpensive option that can handle a heavy door, a chain drive opener may be a good choice. If you are looking for a quiet and reliable opener, a belt drive opener may be a better option. If you are looking for an opener that frees up ceiling space, a jackshaft opener may be the best choice.
Why Choose Garage Door Openers Repair Longmont
When it comes to ensuring the smooth and efficient operation of your garage door, choose Garage Door Opener Repair Longmont, Colorado. It offers a range of compelling benefits that set us apart.
Expertise and Experience
Our team of seasoned professionals brings years of experience in repairing a variety of garage door opener issues. You can trust us to accurately identify the problem and provide effective solutions.
Timely Service
We understand the inconvenience a malfunctioning garage door opener can cause. Our prompt response and efficient repair services ensure your garage door is back in action quickly.
Comprehensive Solutions
Whether it's a minor glitch or a major malfunction, our technicians are equipped to handle all types of garage door opener repairs. From sensor adjustments to motor replacements, we've got you covered.
Quality Parts
We use only high-quality replacement parts to ensure the longevity and reliability of your garage door opener after repair. You can rest assured that the components we use meet the highest standards.
Cost-Effective
Opting for repair over replacement can often be a more cost-effective solution. Our transparent pricing and commitment to delivering value for money make us a preferred choice for Longmont residents.
Customer Satisfaction
Our ultimate goal is your satisfaction. We take pride in surpassing your expectations with exceptional service. We're not just fixing garage door openers; we're building lasting relationships.
Local Convenience
As a locally-based service, we understand the specific needs and challenges of Longmont residents. Our proximity allows us to respond quickly and offer personalized solutions.
Get in Touch with Us Now
We can repair any type of garage door opener, from minor adjustments to complete overhauls. We are dedicated to providing top-quality service that will keep your garage door operating flawlessly.
Our team of experienced technicians will be happy to assess your needs and recommend the best solution for you. We offer free estimates and same-day service, so you can get your garage door back up and running as soon as possible. Call us today to schedule a repair!