Garage Door Repair Longmont Colorado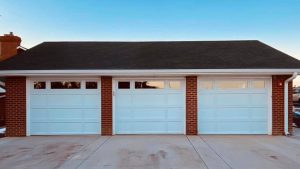 Garage Door Repair Longmont Colorado – If you are looking for a local Longmont garage door company, you got to the right place. Locally owned and operated garage door repair company offers all possible garage door repair services. From Broken cable, and broken garage door spring to garage door opener repair and garage door off track.
We are the professionals who will come to your home and use all our knowledge and experience to serve you with the most friendly, courteous, and professional approach. We specialize in all brands and models of garage doors and garage door openers and carry almost all the parts necessary to complete any garage door repair job.
Garage Door Repair Longmont, Colorado
As a leading garage door company, we know the importance of security and garage doors, as garage doors are one of the most noticeable aspects of your property. It also adds beauty, luxury feel, and security to your residential and commercial property. It's the garage door can break at any time, which is due to numerous reasons. That's why we at Garage Door Repair, Longmont, Colorado, always love to hear your queries and answer your call 24/7. 
We repair and replace broken garage door components such as springs, openers, cables, and panels. Don't be anxious if you don't know what your problem is. Before executing any service, our certified personnel will examine and elucidate the situation. Contact us today for further details on our same-day garage door repair services.
Garage Door Installation Longmont
When you build a new home or business building, you desperately need a garage door for security. So, only settle for more once you have the best garage door installation company, Garage Door Repair Colorado. We install any garage door you think of, residential, commercial, and more. Our main expertise is not limited to garage door installation; we offer garage door openers and more. As you can see, we have the experience, knowledge, and inventory to handle your garage door requirements. Regarding garage door installations in Longmont, your new house or business should not settle for anything less than the best. After all, you'll have that door for a long time. You should start with the right setup!
Garage Door Opener Longmont
The garage door opener is one of the greatest modern conveniences. It can open or close your door from anywhere in the globe with the push of a button or your mobile phone and will tell you when your door is opening or closing, providing the secure comfort you deserve. Nothing less than great convenience.
If you require that simplicity, contact Garage Door Opener Repair Longmont. We sell and install all garage door elements so that you can count on us as your go-to expert for all garage doors. Refrain from dealing with the hassle of a non-automated garage door. 
Services We Offer in Longmont, Colorado
As a prominent garage door repair company in Longmont, we never compromise our quality and service that's why the people of Colorado have trusted us for multiple years. We provide multiple services: 
New Garage Door Opener Installation

20 point inspection on Garage Doors

Noisy Garage Doors Silenced

All Garage Door Repairs

Garage Door Sales

Broken Garage Door Spring Repair

Broken Garage Door Cable and Rollers

New Garage Door Sales

Bent Garage Door Tracks

Off-Track Garage Doors

Garage Door Torsion Spring Replacement Longmont

Spring Garage Door Repair

Garage Door Spring Replacement
Why Trust Us? 
Garage Door Repair Longmont can help you get the best results for our customers.
Same Day Service

Evenings & Weekends Available At No Extra

All Work Is Guaranteed

Open 7 Days/Week

Major Cards Accepted

Professionally Trained Technicians

We Repair & Service All Major Brands
Garage Door Repair Longmont Colorado – FAQs
Q1. Why should I choose your company for Garage door repair services? 
You can choose our company for multiple pointers for garage door repair service. 
Q2. How long should my garage door springs last? 
The most common torsion springs have an expected life of about 10k cycles. A garage door spring could last up to 2-3 years on average.  If your garage door spring needs some repair or replacement, then it's better to contact our professional team for more details. 
Q3.  Do you repair any garage door brands? 
We certainly do. There is no garage door, door opener, or piece of hardware that Garage Door Repair Longmont Colorado cannot repair. Is your garage door system in need of replacement? Not a problem! If you want, we can assist you in solving it and suggest improvements.
Q4.  My garage door won't open properly, what's wrong? 
If your garage door doesn't open properly, ample issues could promote such errors. Software developers rectify code, our versatile garage door repair specialists do the same with a garage door system. We can resolve most issues the same day and get your garage door operating smoothly again. If you experience the same error, you can directly call us for better assistance. 
Q5.  What are the benefits of professional garage door repair services in Longmont, Colorado? 
There are numerous advantages to taking professional garage door repair services Longmont Colorado. A few of them are listed below: 
Q6. How much does it cost to repair a garage door in the US?
The cost of garage door repair in the United States of America typically varies from $147 to $327. 
Q7. How do you fix a garage door that won't close?
Our professional team performs their best practices and helps you eliminate your garage door problem. We work in the following manner: 
Q8.  Why is my garage door not opening all the way? 
There are numerous reasons why your garage door does not open properly. A few of them: 
Blocked Photo-Eye 

Broken Power Source 

Broken Torsion Springs

Snapped Cables 

Door Sensitivity Adjustment Issues

Broken or Disconnected Remote Control
We provide garage door repair services in the following areas:
Denver, Boulder, Lafayette, Louisville, Erie, Firestone, Loveland, Broomfield, Westminster, Arvada, Lakewood, Thornton, Northglenn, Commerce City, Longmont, Brighton, and Superior Colorado.
Garage Door Repair
1244 Vivian St
Longmont, CO 8050