Garage Door Cable Repair Services in Longmont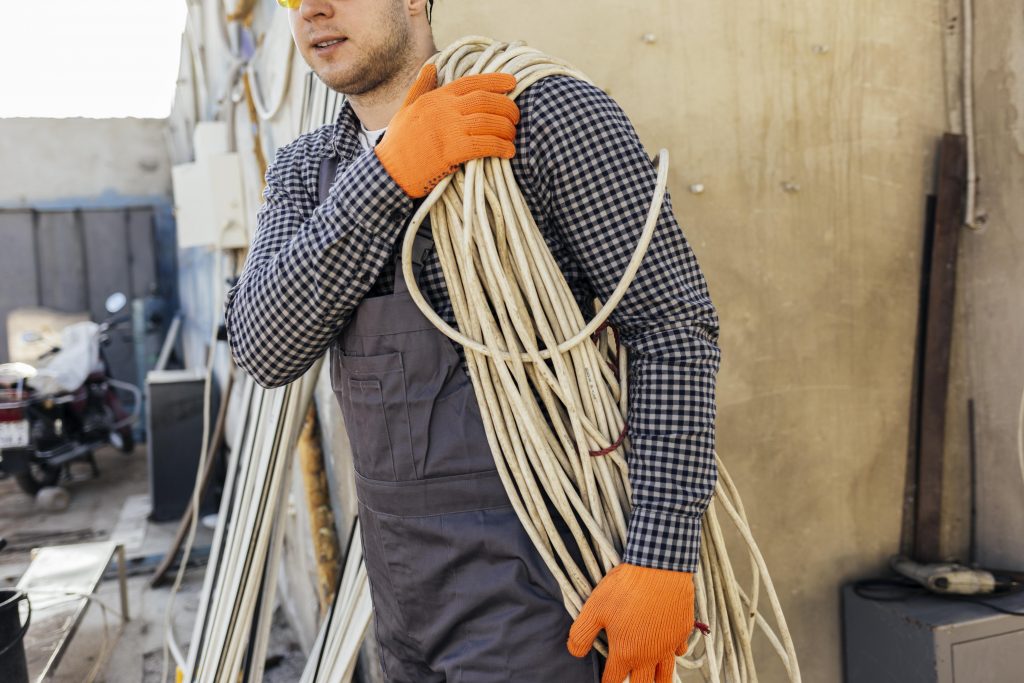 Welcome to Garage Door Repair Longmont, Colorado, your trusted partner for professional & reliable garage door cable repair services. We are here to tailor your garage door requirements & contribute to enhancing your residence security. When it comes to the safety & operations of your garage doors, you can't take risks and put your safety at stake. Malfunctioned or damaged garage door cables can give rise to several accidents & pricy repairs. That's why we are here. Our professional technicians are dedicated to ensuring your garage doors function properly along with cables. Whether you are up for commercial garage doors or residential doors, we are here to assist you.
What is the main purpose of Garage door cables?
Cables are mounted on each side of the Garage doors, and with extension & torsion springs, such cables enable the door to lift up and down hassle-free. Whenever a cable breaks or is torn, the other part of the cable will automatically suffer an additional strain.
However, the cables at the bottom of the garage door are linked at one end of the torsion spring shaft. As the torsion spring twists the drum, the cables unwrap or wrap around it. This procedure allows the door to be raised or lowered. The spring is wound up when the doors are shut.
At Garage Door Repair Longmont Colorado, we strive to deliver exceptional garage door cable repair service and guarantee that your garage door cables work flawlessly.
Different types of garage door cables
Before you proceed to the replacement part, you will know about the suitable type of replacement. Let's have a look at some of the garage door cable types-
Torsion spring cables
Most common garage doors generally operate with torsion springs. The cables are essential for winding up the springs. The springs release energy by unwinding & enabling them to upright the garage door when opened. As the cables of the torsion springs snap, the springs won't be able to unwind & open the garage door.
Extension spring cables
Instead of torsion springs, extension springs contract and stretch to open and close the garage door. Their cables can be found attached to the side. Experts usually propose employing extension spring systems when there isn't enough space above the garage door. They are not as safe as torsion cables in general. When extension cables split, the spring might separate from the pulley system, causing devastation.
Emergency cables
This type of cable permits homeowners to bypass the spring system & open the garage door manually.
Lifting cables
Such kind of cables usually rips because it takes a lot of stress. It's responsible for gearing up the axle to open and close the garage door.
Safety cables
This cable is used in extension spring setups to keep the spring from falling. It is in charge of acting as a failsafe device if the main cable rips.
Most common Garage door cable problems we resolve
At Garage Door Repair Longmont, we strive to deliver you the best possible garage door cable repair services with perfection.
Broken cables
Broken cables are the most common error that might lead to the misalignment of the garage door. Our team of professionals quickly replaces poor or damaged cables so your garage doors operate well without any hassle.
Frayed cables
These cables can lay down the integrity of your Garage door system. Our technicians can inspect & replace these frayed cables and protect you from further damage.
Loose cables
Loose cables can lead to uneven garage door movement, making it unreliable and potentially dangerous. We can tighten and adjust the cables to ensure proper operation.
What pointers sets us apart from other companies in Longmont?
Every garage door repair business in Longmont, Colorado, tries to convince their customers with their services. But we never make fake promises & always try our level best to deliver you satisfactory garage door cable repair services in Longmont. Here are several pointers that make us different from others:
Expert team
Our team consists of highly qualified and experienced garage door cable repair professionals. We have faced and successfully resolved a wide range of cable issues, ensuring that your door runs smoothly.
Use of quality materials
We exclusively use high-quality materials and new parts for our cable repair services. This guarantees that your garage door is repaired and made to last, lowering the likelihood of future problems.
Safety as Priority
As a top-ranked repair agency, we deeply understand the importance of the safety of your residential complexes; that's why we take safety as our top priority. We take care of all necessary precautions or norms to ensure the overall repair process is safe for your family and our technicians.
Get The Highlights Of Our Top-Notch Garage Door Services
Garage Door Cable Repair Services near Longmont, CO
Residential garage door cable repair services
Home depot garage door cable repair services
Garage door cable repair services near me
Garage door cable repair services cost
garage door repair near me
garage door service and repair
Frequently Asked Questions (FAQ)
Q1. What are your charges for Garage door cable repair services?
We charge between $150 to $350 for efficient Garage door repair services in Longmont, Colorado.
Q2. How often do Garage door cables get replaced?
The average lifespan of Garage door cables is 8-15 years, so after 15 years, garage door cables need replacement for efficient door functioning.
Q3. What causes garage door cables to break?
The most common cause of garage door cable breakdown is wear and tear. We take complete care of that.