Guide to Garage Door Opener Repair Services in Longmont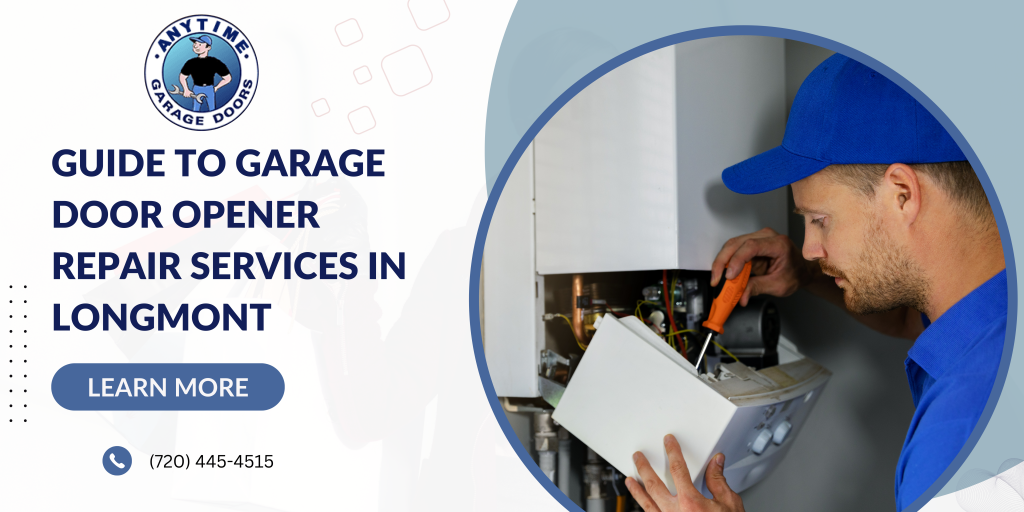 The garage door opener is considered a modern marvel that adds convenience to our daily lives. Like other mechanical systems, garage door openers encounter several issues over time. When your garage door opener stops working or malfunctions, it can leave you stressed, shake your daily routine, and reduce the security level of your residential and commercial property.
A poor garage door opener also enhances the risk of physical injury. That's why regular service and timely inspection are necessary for efficient garage door system performance. If your garage door opener experiences such errors, read this blog as we discuss the most common problems with garage door openers and the importance of professional garage door opener repair services.
Most Common Garage Door Opener Problems
Undoubtedly, garage door openers are powered by emerging technologies, but with time, several errors require instant garage opener repair in Longmont. Here is a summary of the most common garage door opener problems:
Remote control malfunctioning
The most common garage door opener problem that each homeowner encounters is a poor remote control due to numerous root causes, i.e., your garage door opener's remote control has poor batteries or signal interference in that garage door opener won't work properly.
To diagnose this error, you can avail of professional garage door opener replacement in Longmont or call an expert repair technician, as he can effectively diagnose the root cause of the error and provide a sure-shot solution to replace the faulty batteries to make your garage door opener truly functional.
Noisy bugs
If your garage door opener sounds creepy or makes strange noises, it directly indicates core issues with the motor, rollers, or other mechanical components. A professional garage door repair company like Garage Door Repair Longmont has a team of perfect technicians that can easily evaluate the root cause and work accordingly by performing activities like lubricating components, tightening loose hardware, and recognizing each part that may require replacement to bring back that smoothness and quiet operation of garage door openers.
Door reversal issues
Another common problem homeowners experience is the immediate reversal of the garage door system. If the door opener reverses immediately after touching the floor, it might hint at a concern with the close-force setting or the safety sensors. To resolve this error, call the experts, as they can easily adjust the settings and guarantee that safety features are functioning properly to prevent accidents and injuries.
Irrelevant movement
The inequitable or jerky swinging of the garage door can indicate a problem with the tracks, rollers, or cables. Repair services can realign tracks, replace worn-out rollers, and solve cable problems to ensure perpetual and reliable door movement.
To deal with such garage door opener problems, you can hire the best and most satisfactory garage door replacement in Longmont. Here is the pivotal importance of garage door opener services:
Give Priority to Safety
Garage doors become heavy and sludgy under tension. Thus, attempting DIY can only be easy with expertise, which can further lead to accidents and other injuries. A reputed door repair technician has the knowledge and expertise to handle repair perfectly.
Instant Error Detection
DIY initiatives may result in trial and error, wasting critical time and sometimes exacerbating the problem. Professional repair services can rapidly identify and address the underlying source of a problem, resulting in a quick resolution.
Preventative Maintenance (PM):
Professional upkeep can prevent possible problems from escalating. This preventive strategy will help your garage door opener last longer and lessen the likelihood of unexpected malfunctions.
Quality Repairs
Professional technicians employ high-quality replacement parts and tools to guarantee that the repairs are more reliable and durable. A complete quality assurance minimizes the risk of error arising.
Final Thoughts
A malfunctioning garage door opener can be a major inconvenience that disrupts your daily routine workflow and reduces the security and privacy of your home and office. Investing in competent garage door opener repair services in Longmont is a smart choice to guarantee the safe resolution of issues and bring back the original touch to a garage door opener. Expert servicing is also essential for preventing future problems, extending the life of your garage door opener, and improving the overall safety of your property. Entrusting your garage door opener repairs to trained specialists opens the door to convenience.